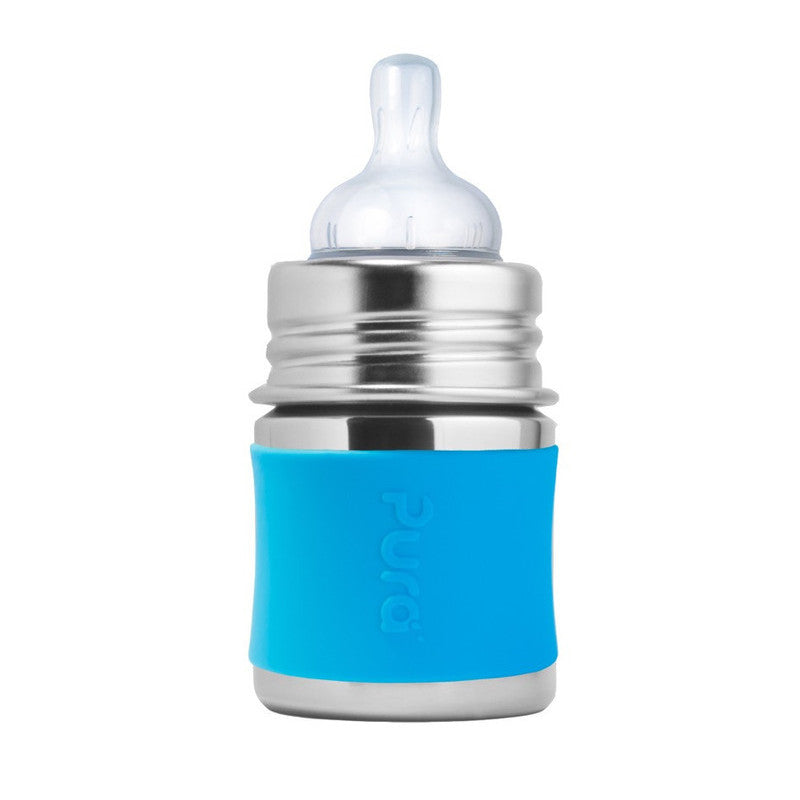 Pura - Stainless Bottle, 5 oz, Natural with Aqua sleeve
---
american express

apple pay

diners club

discover

google pay

master

visa
Description
Pura Kiki stainless steel bottles are the safe choice for your baby. Crafted from high-grade stainless steel, this bottle is BPA-free, llightweight, durable, and will not seep anything into your child's milk, water or juice. A safe and durable alternative to plastic infant bottles and toddler sippy cups.
Product Description:
Features:
Crafted from safe, anti-bacterial, #304 stainless steel No plastic components!
BPA-free and will not leach toxins like plastic bottles and rings
Internal volume markings make measuring your child's milk or other beverage a snap. Each ounce is marked and can be seen by glancing inside the bottle.
Wide neck slow flow Pura 100% silicone medical grade nipple
Infant bottles are compatible with wide neck nipples from Pura, ThinkBaby™, BornFree™, and Dr. Brown's™
This bottle is designed to grow with your child; it easily converts into a sippy bottle or straw bottle by simply changing the nipple out for a sip spout
Silicone travel cap included
Lifetime warranty on stainless components
Why a Non-Plastic Bottle?
Because even BPA-free plastic can leach petroleum by products and other chemical components of plastic when heated, scuffed, scratched or worn.Recent studies show that even BPA-free plastic products can still have BPA due to cross contamination at the factory. Are plastic bottles worth the risk? Pura Kiki bottles and collars are crafted from food service grade (#304) stainless steel - the same safe,durable material that has been used in milk pasteurization for decades.
What about the Paint:
The paint used on the outside of the bottles is non-toxic and free of lead, phthalates, PVC, and BPA. The bottle and its components are dishwasher safe on the top rack.
What Our Customers Are Saying