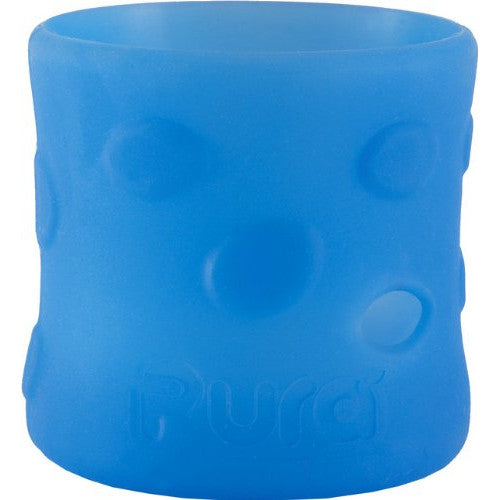 Pura - Silicon Sleeve, 5 oz, Blue
---
american express

apple pay

diners club

discover

google pay

master

visa
Description
Add some fun and color to your little one's life with a silicone sleeve! These sleeves provide insulation for hot and cold liquids, enhance tactile feedback for small hands and virtually eliminate dents and scratches to your Kiki bottle. Best of all kids love the feel of the raised bumps. Fits 5 oz bottle
Product Description:
Tactile feedback for small hands — the semi tacky feel and embossed "pebbles" are fun and give the bottle a pleasant feel for small hands.
Ambient temperature to the touch — the sleeves keep the exterior of the bottle at near ambient temperature so a bottle filled with ice cold juice will not feel cold to the touch nor will a hot bottle burn one's hands
Elimination of condensation on the exterior of the bottle - no longer will your little one's bottle "sweat" on a warm day.
An array of modern and fun colors - change the look or color of your bottle by adding a sleeve
Semi-permanent design — The Kiki sleeve was designed to fit tightly so that it will stay on the bottle even through repeated dishwashing cycles or when tugged by little hands. The sleeve can easily be removed to clean or change the look of the bottle.
What Our Customers Are Saying